SYSTEM MANAGEMENT
LIKE IT SHOULD BE
Sysvik is a online monitoring and inventory service computer systems. Start using in five minutes.
Important historical data

Install our light agent and get detailed information about your computers load and usage and start planning based on real need.

When the computers fails the data collected will be of much importance because it will say when problem started and how long before the system finally failed.

System diary & change history

With our System Diary you can record changes to computers in you own words. The diary is accessable under each computer in the web interface.

Sysvik detects many common changes to system and automaticly records them for you to see under change history. Changes logged are memory, domain, disk, application and many more.

Hardware inventory

With Sysvik you have in one location overview of your hardware inventory. You will not need to go the server room again to find information such as serial number or type of your server.

IP manager

With our IP Manager you will have better overview of your IP allocation and usage. IP manager will make IP planning easier than ever.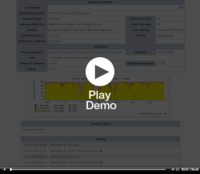 Introduction for beginners. Registering user, adding computer to Sysvik and using the interface.
Anyone can create a user account for Sysvik. You can add your personal computers free (up to three). For corporate need we offer corporate account. They differ from personal account in two ways:
You can add more than three computers
You can connect more users with different roles to the corporate account
| # computers | USD | EUR | GBP | ISK |
| --- | --- | --- | --- | --- |
| One nodes | 25 | 17 | 11 | 1.500 |
| 5-9 nodes | 23 | 15 | 10 | 1.350 |
| 10-19 nodes | 19 | 13 | 8 | 1.125 |
| 20-49 nodes | 16 | 11 | 7 | 975 |
| 50+ nodes | 13 | 9 | 6 | 750 |
Complete computer system overview
Powerful search and query save
Tagging
System diary
Software & hardware inventory
IP management
System updates
System alerts

Supported operating systems

RPM based: Red Hat, Centos, Fedora, SuSE and OpenSuse (32 and 64bit)
DEB based: Debian and Ubuntu (32 and 64bit)
Windows Server: 2000, 2003, 2008 (32 and 64bit)
Windows 2000, XP, Vista, 7 beta (32 and 64 bit)

Automatic change history

Software
Hostname
Disk size/types
Memory size
Swap size
Domain changes
Kernel changes (Linux only)

Historical information and charts for

Disk utilization
Memory utilization
Load utilization
Network utilization
... and more